OpenAI has announced the release of DALL·E 3, the latest iteration of its text-to-image AI tool. DALL·E 3 is designed to generate highly accurate images based on textual prompts and will be available to ChatGPT Plus and Enterprise customers in October. This article explores the key features of DALL·E 3, its creative potential, safety measures, and its integration with Microsoft's Bing search engine.
DALL·E 3: Transforming Ideas into Images
DALL·E 3 marks a significant advancement in text-to-image AI systems. Unlike previous versions, which sometimes struggled with nuanced requests, DALL·E 3 can translate detailed and intricate prompts into remarkably accurate images. This enhancement eliminates the need for users to engage in complex "prompt engineering" to achieve their desired results.
Collaboration with ChatGPT for Creative Output
DALL·E 3's integration with ChatGPT introduces a new level of creativity to the process. Users can engage in conversations with ChatGPT to refine their prompts and generate tailored, detailed prompts for DALL·E 3. If the generated image isn't quite right, users can easily instruct ChatGPT to make adjustments with just a few words. This collaborative approach between two advanced AI models streamlines the creative process and enhances user experience.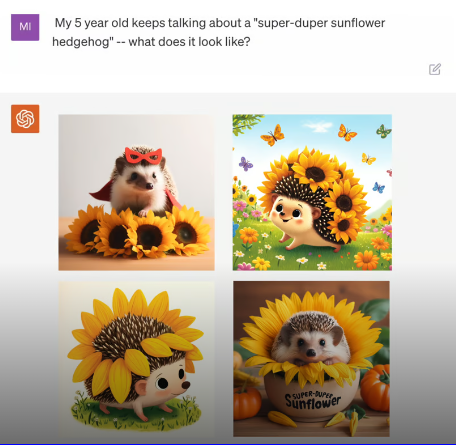 Safety Measures and Content Limitations
OpenAI wants to ensure the responsible and safe use of AI technology. DALL·E 3 incorporates several safety measures to prevent the generation of harmful or inappropriate content. It limits its ability to produce violent, adult, or hateful images, addressing concerns related to the misuse of AI-generated content.
Furthermore, DALL·E 3 declines requests explicitly asking for images of public figures by name. This measure protects individuals' privacy and prevents potential misuse of AI-generated imagery in unauthorized contexts.
DALL·E 3 will Empower Creators and Protect Artistic Rights
OpenAI recognizes the importance of giving creators control over their work. Creators can now actively choose to exclude their images from future image generation model training. This step is crucial in respecting artistic rights and addressing artists' concerns regarding using their work in AI development.
Integration with Microsoft's Bing Search Engine
In an exciting development, Microsoft has announced its intention to integrate DALL·E 3 into its Bing search engine. Microsoft has been making significant strides in leveraging AI to compete with major players like Google. The integration of DALL·E 3 into Bing will enable users to generate images directly from natural language descriptions. This move is part of Microsoft's broader strategy to incorporate AI technology into its products.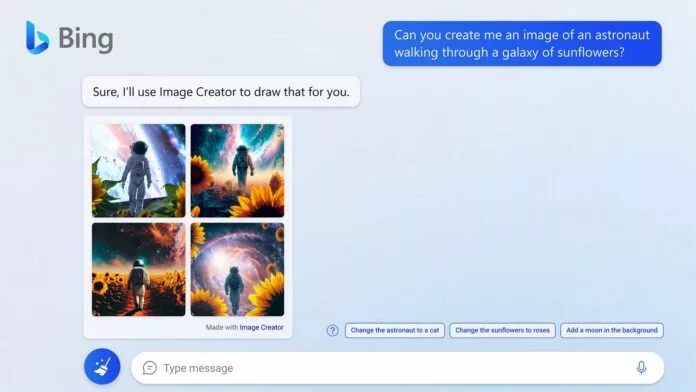 Addressing Controversies and Legal Challenges
DALL·E has not been without its share of controversies, including legal challenges from artists who allege unauthorized use of their work. In response, Microsoft has pledged to cover any legal damages for customers using AI services like Copilot and Bing Chat, provided they use built-in safeguards. This commitment underscores the importance of responsible AI development and usage.
DALL·E 3 is Enhancing Conversational AI with Memory
Microsoft's Bing search engine will enhance conversational experiences by drawing on previous conversations. This feature, which tackles the common criticism of AI lacking memory, will allow the Bing bot to provide more contextually relevant responses to users' queries. Importantly, Microsoft has made this feature optional, recognizing the need for user control and privacy.
The Future of AI Integration
As both OpenAI and Microsoft continue to invest in AI technology, we can expect to see more seamless integration of AI into everyday applications. Microsoft's Copilot, backed by OpenAI's technology, is set to be available on November 1, offering AI-driven assistance for tasks like summarizing meetings and generating documents. This trend of AI integration is not limited to Microsoft, as other tech giants like Google also incorporate AI into their services, such as Gmail and YouTube.