Forrester Wave™ assessment evaluates the market's top vendors, categorizing them as Leaders, Strong Performers, Contenders, and Challengers. It is a research report produced by Forrester Research that evaluates and ranks technology vendors and their products based on their market presence, strategy, and current offering.
The relevance of Robotic Process Automation (RPA)
Numerous businesses have adopted automation as a means to achieve efficiency gains, mainly through the use of robotic process automation (RPA). Technology leaders aim to expand automation capabilities to increase returns and safeguard investments. RPA software vendors have expanded their offerings beyond RPA, incorporating low-code development tools, content and document processing capabilities, process orchestration, and more to meet these demands. Automation professionals are restructuring their frameworks to enable scalability and handle more intricate automations.
In light of these trends, RPA customers should seek out providers that:
Provide a comprehensive range of automation technologies that can support sustainable and scalable automation initiatives in the long term.
Facilitate centralized and federated automation setups, enabling businesses to scale their automation strategies across the entire enterprise.
Understand that automation is a journey that involves process discovery, analysis, improvement, automation, and continual iteration.
Forrester Wave™ for Robotic Process Automation (RPA), Q1, 2023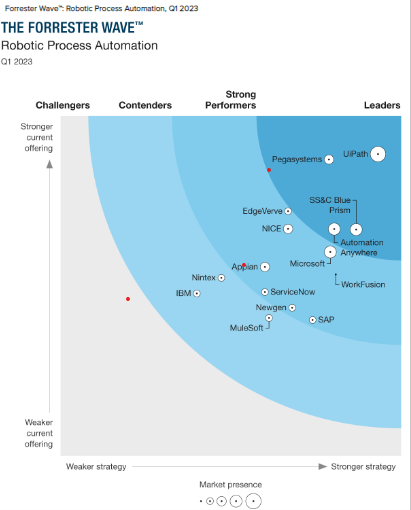 This assessment conducted by Forrester comprises 15 vendors: Appian, Automation Anywhere, EdgeVerve, IBM, Microsoft, MuleSoft, Newgen, NICE, Nintex, Pegasystems, SAP, ServiceNow, SS&C Blue Prism, UiPath, WorkFusion.
Evaluation Criteria
Forrester's assessment of vendors involved a thorough evaluation process based on 26 specific criteria that we grouped into three overarching categories.
The company evaluated each vendor's current offering, which we represented on the vertical axis of the Forrester Wave graphic. This category assessed the strength of each vendor's automation discovery, evaluation, and portfolio; automation design and development; deployment, operations, and analytics; governance and security; and general capabilities.
Second, the assessment was on the strategies of each vendor, which we represented on the horizontal axis of the Forrester Wave graphic. The company considered each vendor's vision, innovation, roadmap, pricing flexibility and transparency, partner ecosystem, and community to determine the strength of their strategies.
The final assessment criteria are the market presence of each vendor, which indicates the size of the markers on the graphic. The market presence scores considered each vendor's revenue and number of users.
Vendors had to meet specific criteria for inclusion in the assessment. Forrester evaluated 15 vendors: Appian, Automation Anywhere, EdgeVerve, IBM, Microsoft, MuleSoft, Newgen, NICE, Nintex, Pegasystems, SAP, ServiceNow, SS&C Blue Prism, UiPath, and WorkFusion. Each vendor must have a different RPA software product to which customers can purchase licenses or subscribe.
Additionally, we only included vendors with a robust global presence, meaning they were present in at least three regions: North America, EMEA, APAC, and Latin America. Finally, vendors had to have significant RPA software revenue, with a total annual income of at least $15 million.
The rankings for Q1, 2023 –
Leaders
UiPath
Pegasystems
SS&C Blue Prism
Automation Anywhere
Strong Performers
Microsoft
EdgeVerve
WorkFusion
NICE
Appian
SAP
Newgen
ServiceNow
Contenders
You can access the full report here.