Gartner, a global research and advisory firm, has forecasted that 39% of international knowledge workers will work in a hybrid model by the end of 2023. This is an increase from 37% in 2022. According to Ranjit Atwal, Senior Director Analyst at Gartner, mixed work is not just an employee perk but an expectation. To adapt to this trend, employers are implementing a human-centric work design that focuses on flexibility, intentional collaboration, and empathy-based management.
While only 9% of global knowledge workers can work remotely by the end of 2023, 51% of knowledge workers in the US will work hybrid, and 20% will work remotely. This hybrid work trend will increase in Europe, with fully remote and hybrid knowledge workers accounting for 49% of the German workforce and on the rise in the UK.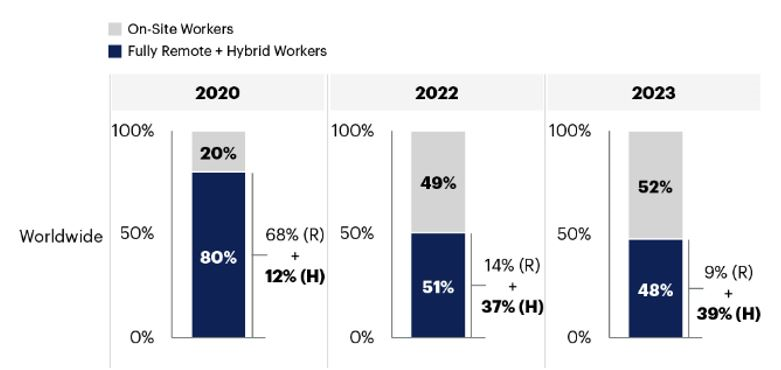 Gartner defines hybrid workers as those who work in the office at least one day a week, while fully remote workers always work from home. On-site workers work on-site full-time, not working from home at any time.
Gartner also states that human-centric design can alleviate the IT talent crunch, as IT workers are more inclined to quit their jobs than employees in other functions. CIOs can maximize retention and attraction of talent by resetting their employee value proposition with a more human deal.
According to Gartner, virtual workspaces can provide potentially disruptive alternatives to in-person and existing virtual meeting solutions. By 2025, Gartner predicts that 10% of workers will use virtual spaces for sales, onboarding, and working remotely. However, management cannot expect employees to engage in the virtual workspace for their entire workday. It should only entertain meetings and interactions they will enhance, such as brainstorming, product reviews, or social gatherings.
The hybrid work trend is here to stay, and employers need to adapt by implementing a human-centric work design and offering flexibility to their employees.