The human-machine interface (HMI) is a conduit for communication between users and electromechanical devices. HMI examples include touch screens, membrane switches, rubber keypads, and interface software. The need for human-machine interfaces is growing as a result of increased factory automation, smartphone, tablet, and computer users, and technical requirements.
In 2020, Human Machine Interfaces had a global market valued at USD 3.72 billion. Research indicated that the existing market for HMI will grow at a CAGR of 10.3%. The projected growth rate suggests that the Human Machine Interface's global market will reach USD 7.24 billion in the coming four years.
The market for human-machine interfaces is projected to be driven by technological developments in HMI. For instance, rising productivity & safety in many industries due to voice recognition, touch screen modules, touchless sensing, augmented reality, and other technologies are projected to drive the growth of the human-machine interface market.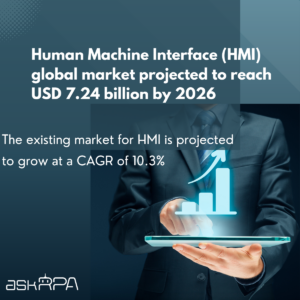 Factors that are contributing to the growth of HMI's market
The market for human-machine interfaces is expanding due to the growing demand for dedicated hardware, data security, and efficient, dependable software and systems. The need for human-machine interfaces is rising across several industries, including aerospace & defence, manufacturing, healthcare, and oil & gas. On the other hand, the development of the worldwide market for human-machine interfaces is being hampered by the HMI's complicated design structure and expensive installation costs.
Additionally, modern HMI solutions are pre-configured to send data to an on-premise or cloud-based solution. As a result, the introduction of IoT is changing manufacturing industries, encouraging the growth of the market for human-machine interfaces. Additionally, market participants' growing M&A activities are partly to blame for the advancement of the Human Machine Interface market.