What is the ISG quadrant report about?
The report mainly emphasizes the evaluation of US platform providers for Process Discovery and Mining (PD&M). It illustrates the market positions of various suppliers and how each one responds to the difficulties businesses encounter. Globally particularly in the US, demand for PD&M has grown as companies want to take advantage of its potential for intelligent automation.
Providers are lowering the time required for process projects, providing end-to-end process perspectives and insights, and assuring process security and compliance. The market has seen consolidation, with critical businesses being bought out by more influential organizations. Providers are now realigning their products to provide a platform that spans process discovery, process mining, task mining, and predictive analytics. Moreover, they provide domain-specific modules enabling quicker deployments and adaptable business models.
This quadrant evaluates Process Discovery and Mining software providers based on their capability to capture a business activity at each transaction layer. The combined significance of Process Discovery and Mining determines the path of new advanced solutions.
Who does the report benefit from?
Strategy professionals can benefit from the ISG report to understand technology suppliers' relative positioning and capabilities that can supply PD&M solutions more efficiently and effectively.
Digital professionals can benefit from this research to better understand how PD&M solution providers fit into digital transformation programs and how they stack up against one another.
Technology professionals can benefit from this research to explore how PD&M platform vendors add supplementary technologies like RPA, NLP, Machine Learning, and Business Intelligence to their solutions for end-to-end process automation.
Procurement professionals can benefit from this research to have a better grasp of the present market for PD&M platform providers in the US and their appropriateness for RFPs,
Leaders, Product Challengers, Contenders, and Rising Stars of ISG Process Discovery and Mining (PD&M) quadrant, 2022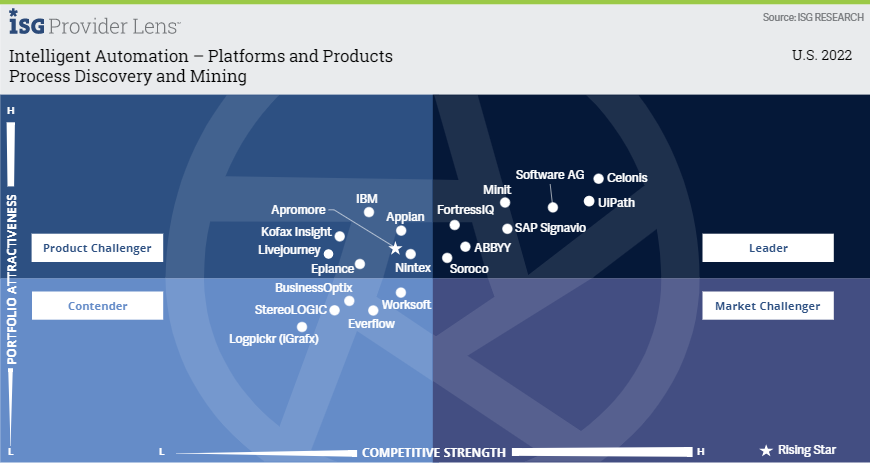 Leaders
Leaders have a wide range of goods and services, a significant market presence, and a solid competitive position. In the markets examined by the study, Leaders are well-positioned to succeed thanks to their product portfolios and competitive tactics. The Leaders stand for both competitive stability and power in innovation.
The Leaders for Process Discovery and Mining (PD&M) quadrant, 2022 are –
ABBYY
Celonis
FortressIQ
Minit
SAP Signavio
Software AG
Soroco
UiPath
Product Challengers
Product Challengers provide a range of goods and services that showcase first-rate support and technological stacks. These businesses and services offer a unique breadth and depth of skills. Companies prove that they have invested in increasing their market presence and competitive advantages.
The Product Challengers for Process Discovery and Mining (PD&M) quadrant, 2022 are –
Appian
Epiance
IBM
Kofax Insight
Livejourney
Nintex
Contenders
Contenders offer goods and services that satisfy the standards for inclusion in the IPL quadrant. With a target of becoming a Product or Market Challenger within 12 to 18 months, these potential service providers or vendors have signs of quickly investing in goods or services and adhering to an intelligent market approach.
The Contenders for Process Discovery and Mining (PD&M) quadrant, 2022 are –
BusinessOptix
Everflow
Logpickr (iGrafx)
StereoLOGIC
Worksoſt
Rising Star
Rising Stars have attractive portfolios or the necessary industry experience, along with the essential roadmap and appropriate emphasis on significant market trends and client requirements, to become Leaders. These suppliers and service providers present proof of significant advancements made in the previous 12 months toward their objectives.
If Rising Stars maintains its above-average market influence and innovation strength, ISG anticipates moving into the Leader quadrant during the following 12 to 24 months.
The Rising Star for Process Discovery and Mining (PD&M) quadrant, 2022 are –
Apromore