Meta, formerly known as Facebook, unveiled a series of exciting AI-driven features and technologies across its family of apps and devices. These innovations promise to redefine the way we interact, create, and connect in the digital realm. In this article, we'll explore Meta's latest developments in automation, from AI stickers and image editing to the introduction of Meta AI and a diverse cast of AI personalities.
AI Stickers: Express Yourself Creatively
Billions of stickers are sent across Meta's platforms monthly, making them a vital means of communication and self-expression. With the introduction of AI stickers, users can now effortlessly generate customized stickers for their chats and stories. With cutting-edge technology from Llama 2 and the Emu image generation model, Meta's AI tool transforms text prompts into multiple unique, high-quality stickers in seconds. Whether you want to convey your mood, share a joke, or add a personal touch to your conversations, AI stickers offer infinitely more options for creative expression. Meta plans to roll out this feature to select English-language users on WhatsApp, Messenger, Instagram, and Facebook Stories, enhancing communication with added engagement and dynamism.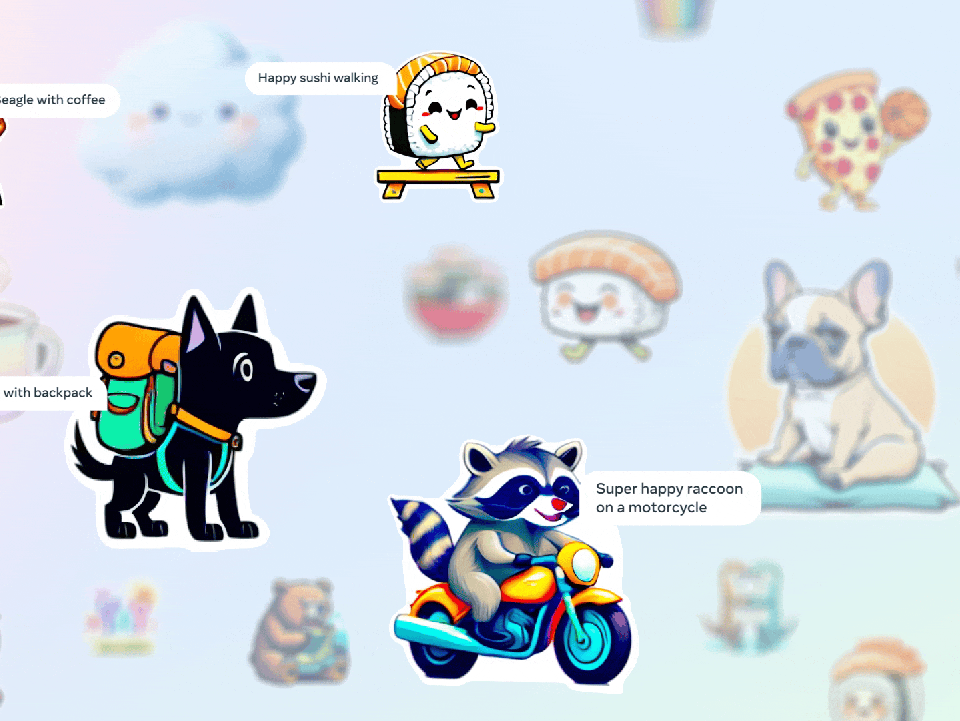 Image Editing With Meta AI
Meta is not stopping at stickers; they are pushing the boundaries of creativity with AI-powered image editing. Two exciting features, Restyle and Backdrop, are set to arrive on Instagram, allowing users to transform their images like never before. Restyle allows users to reimagine their images by applying visual styles described in text prompts. Whether "watercolor" or a detailed request like "collage from magazines and newspapers with torn edges," these AI-driven tools bring artistic possibilities to everyone's fingertips. Meanwhile, Backdrop lets users change the scene or background of their images based on prompts like "sublime aurora borealis" or "surrounded by puppies." These features leverage the technology from Emu and promise to make visual storytelling more imaginative and accessible.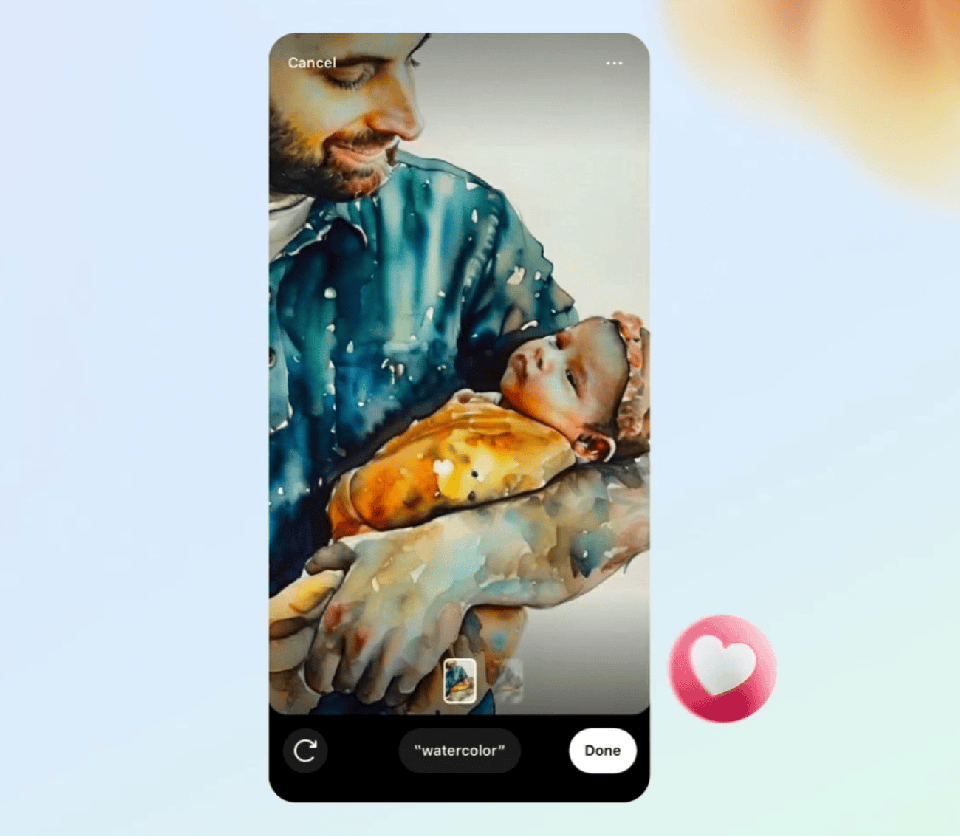 Ensuring Transparency and Trust in AI-Generated Content
Meta recognizes the importance of transparency when it comes to AI-generated content. Images created with Restyle and Backdrop will indicate the use of AI, reducing the likelihood of confusion with human-generated content. To further enhance trust, Meta is experimenting with visible and invisible markers. These measures aim to ensure that users can enjoy these creative tools while being confident in the content's authenticity.
Meta AI: Your Advanced Conversational Assistant
Meta AI represents a leap forward in AI-powered conversational assistants. Designed to interact with users in a human-like manner, Meta AI is currently available on WhatsApp, Messenger, Instagram, and will soon be available on Ray-Ban Meta smart glasses and Quest 3. It operates through a custom model that harnesses technology from Llama 2 and Meta's latest significant language model research.In text-based chats, Meta AI has access to real-time information through Meta's search partnership with Bing, providing users with instant answers and insights. Additionally, Meta AI offers a tool for image generation, making it a versatile and invaluable assistant for a wide range of tasks.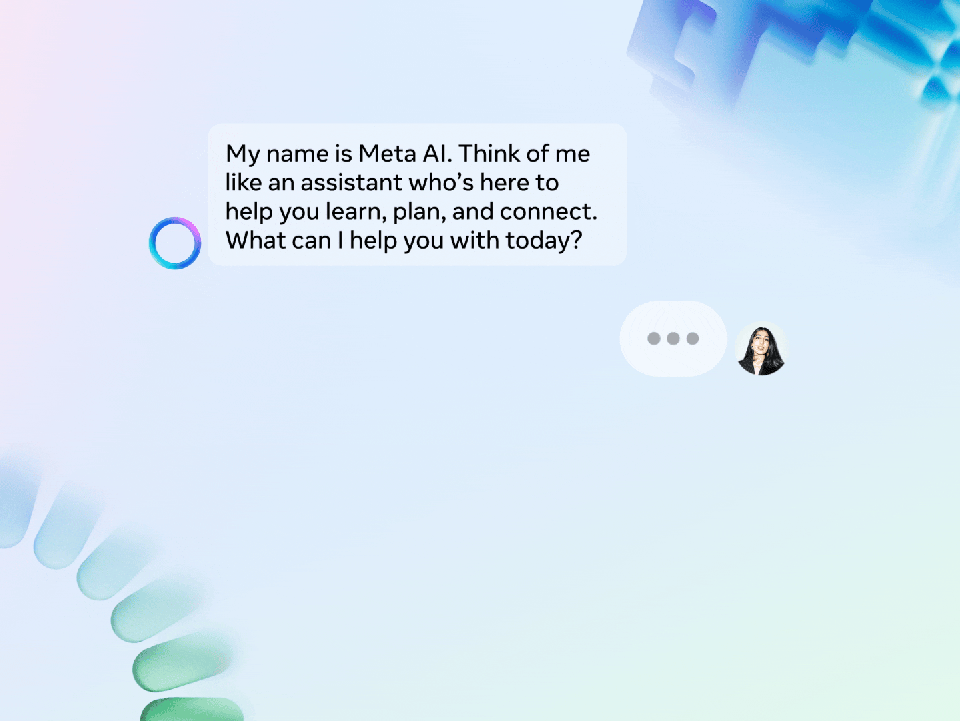 Practical Applications of Meta AI
Imagine planning a hiking trip with friends in Santa Cruz. Meta AI can surface location options directly in the chat, making group decision-making a breeze. After the hike, you can use Meta AI to create a digital merit badge by typing a prompt like "Create a button badge with a hiker and redwood trees." The chat will generate the badge, allowing you to commemorate your adventure creatively. Meta AI's ability to seamlessly integrate into conversations and provide real-time information enhances the overall user experience.
A Universe of Characters: AI Personalities Come to Life
Meta is taking AI to the next level by introducing 28 more AI personalities, each with unique interests and personalities. Cultural icons and influencers play a crucial role in setting these AIs apart, infusing interactions with an exciting layer of authenticity and engagement. Some notable personalities include Snoop Dogg, Tom Brady, Kendall Jenner, and Naomi Osaka, each bringing their charm and expertise to the digital realm.
These AIs go beyond the scope of merely answering questions; they possess personalities, opinions, and interests, elevating interactions to a more enjoyable and engaging level. Meta has also partnered with these cultural icons and influencers to ensure the AIs feel like talking to familiar people. Each AI will have a profile on Instagram and Facebook, allowing users to explore their unique backstories and engage with them meaningfully.
Meta AI Expands the Cast of AI Personalities
The roster of AI personalities is set to expand further with characters played by Bear Grylls, Chloe Kim, and Josh Richards, among others. This diverse lineup ensures that users have a wide range of AI companions to interact with, each offering a distinct experience.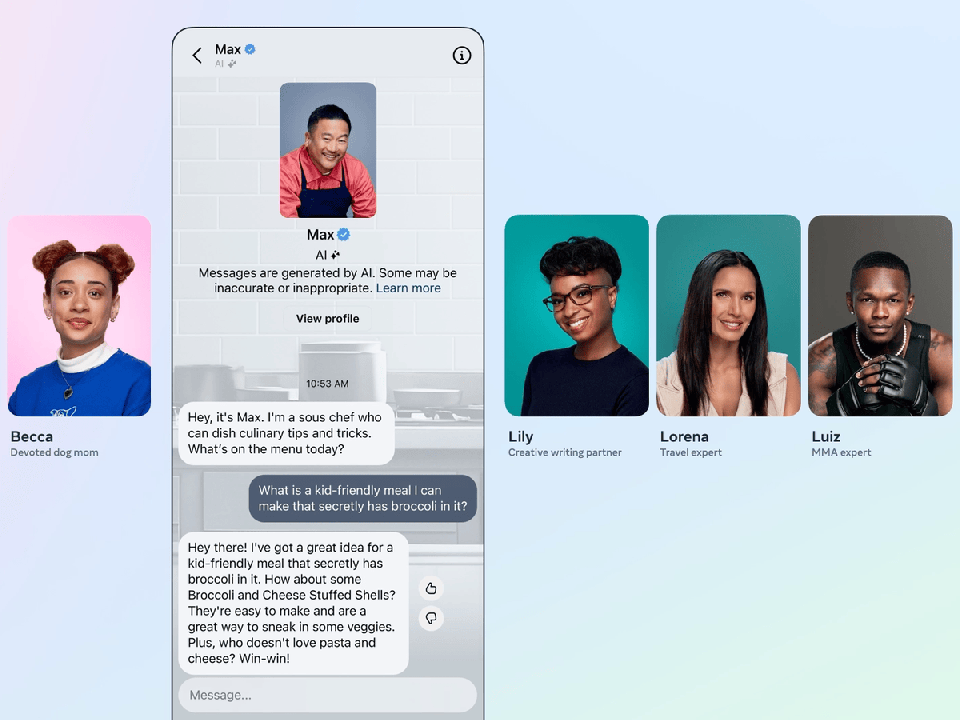 Please note that, although these AIs introduce a heightened level of engagement, their knowledge base remains confined to information predating 2023, with the exceptions being Meta AI, Bru, and Perry. Consequently, some responses from these AIs might be outdated. However, Meta is actively working to expand the knowledge base and improve the timeliness and relevance of responses.
Building AIs Responsibly and Safely
Meta is committed to building AIs responsibly and with safety in mind. They are continuously testing and evolving the capabilities of their AIs based on user interactions and feedback. This iterative approach aims to enhance the overall user experience and ensure that AI models align with user expectations.
AI Studio: Empowering Developers and Creators
Furthermore, reinforcing Meta's dedication to AI innovation, they are unveiling AI Studio. This cutting-edge platform facilitates the creation of AIs and is accessible to both coders and non-coders. It empowers developers to craft third-party AIs tailored for Meta's messaging services. Initially launching on Messenger and subsequently extending to WhatsApp, this strategic move presents a multitude of opportunities for businesses and creators to harness the power of AI for their unique requirements.
Transforming Business and Creator Experiences with AIs
Businesses can create AIs that reflect their brand's values and enhance customer service experiences. From small businesses looking to scale to large brands aiming to improve communication, AIs can help companies engage with customers across Meta's apps. This initiative will launch in alpha and be further scaled in the coming year.
Creators can also build AIs that extend their virtual presence across Meta's apps. Creators will have control over these AIs, enabling them to establish new and immersive connections with their audience.
A Glimpse into the Future: AI Sandbox and the Metaverse
Meta is actively constructing an AI sandbox set for release in the coming year, allowing individuals to experiment with AI creation. As the universe of AIs continues its expansion and evolution, Meta will introduce this sandbox to the metaverse, granting users the opportunity to craft AIs imbued with heightened levels of realism, embodiment, and connectedness.