AI Chips Drive Unprecedented Growth in Data Center Business
Nvidia Q2 Earnings: Exceed Predictions, Shares Surge 8%
In a remarkable turn of events, Nvidia, the leading semiconductor and AI technology company, has shattered earnings expectations for the second quarter. The company's earnings report reveals an astounding surge in revenue, primarily attributed to the soaring demand for AI chips. Nvidia's cutting-edge data center business, featuring the A100 and H100 AI chips pivotal for constructing and operating Artificial Intelligence applications, including renowned models like ChatGPT, has driven this extraordinary growth.
Staggering Revenue Figures and Bold Projections
Nvidia reported an unprecedented $10.32 billion in data center revenue, marking an incredible 171% year-on-year increase. This substantial boost is a testament to the rapidly evolving landscape of AI and the essential role Nvidia's technology plays in driving the generative AI revolution. Nvidia's shares experienced an 8% surge during extended trading following the earnings announcement.
Earnings and Revenue Figures Surpass Predictions
The company's earnings per share reached an impressive $2.70, adjusted for the quarter, outshining the Refinitiv estimated figure of $2.09 per share. Furthermore, Nvidia's revenue for the quarter skyrocketed to $13.51 billion, significantly surpassing Refinitiv's forecast of $11.22 billion. These impressive figures reflect the company's unwavering commitment to innovation and excellence in AI-driven technologies.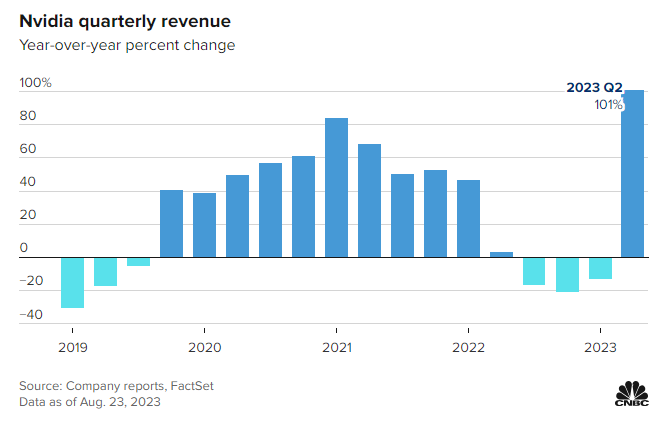 Nvidia has Optimistic Projections for Q3
Nvidia's positive trajectory continues into the third quarter with a projected revenue of approximately $16 billion. This ambitious forecast, notably higher than the $12.61 billion predicted by Refinitiv, implies a staggering 170% year-on-year sales growth for the current quarter. These projections underscore the pivotal role Nvidia's AI chips are set to play in shaping the future of industries reliant on AI technologies.
Data Center Business Dominates Growth
Nvidia's data center business has emerged as the cornerstone of its extraordinary success in recent times. With cloud service providers and significant consumer internet giants like Alphabet, Amazon, and Meta clamoring for next-generation processors, the data center revenue surged to an impressive $10.32 billion. This represents a monumental 171% increase year-on-year, comfortably surpassing estimates.
AI Chips at the Heart of Generative AI Boom
The driving force behind Nvidia's meteoric rise lies in its innovative AI chips, particularly the A100 and H100 models. These chips are the lifeline of AI applications like ChatGPT and similar conversational AI models. By seamlessly converting text queries into interactive responses and images, Nvidia's AI chips have carved out a niche in the rapidly expanding generative AI landscape.
Nvidia Showed Resilience Against Export Restrictions
Nvidia's stellar performance isn't the only noteworthy aspect of its recent report. The company's financial outlook remains robust even in the face of potential export restrictions on chips proposed by the Biden administration. Finance Chief Colette Kress confidently expressed that the company's global product demand is expected to mitigate any immediate adverse effects of these restrictions on its financial results.
Unprecedented Stock Growth
Nvidia's stock price has witnessed an astounding surge, more than tripling in value over the year. This outstanding performance has solidified Nvidia's position as the top performer in the S&P 500 index. With its shares surpassing the $507 mark after hours, the company inches closer to setting a new record, with its previous closing high being $474.94 in mid-July.
Diversification of Revenue Streams
While Nvidia's data center business takes the spotlight, the company's diversification efforts are also evident. Its gaming division, once the core of its business, achieved a commendable 22% revenue increase from the previous year, totaling $2.49 billion. However, Nvidia's high-end graphics chip business experienced a 24% decline to $379 million. On the other hand, the automotive sector observed a 15% year-on-year growth, generating $253 million in revenue.
Share Buybacks and Enhanced Profit Margins
Nvidia's commitment to shareholder value is further emphasized by authorizing $25 billion in share buybacks. The company's adjusted gross margin surged by an impressive 25.3 percentage points, reaching 71.2%. This remarkable margin expansion is attributed to the robust growth in data center sales, which inherently command higher profitability.
Nvidia's extraordinary Q2 earnings report firmly cements its status as a pivotal player in AI and semiconductor technologies. The demand for its revolutionary AI chips, particularly in the context of generative AI applications, propels the company toward new heights of success. As industries continue integrating AI into their operations, Nvidia's innovations remain at the forefront, shaping the future of technology-driven landscapes.