About Dai-ichi
With the motto 'By your side, for life', Dai-ichi is a Japanese insurance company established in 1902. Their aim is to be the 'First in Quality, 'First in Productivity'​, 'First in Vital and Energetic Employees', and 'First in Growth Potential. Its ultimate goal is to be the number one customer-supported company.
Challenge/Problem Statement
Customer-facing operations such as insurance purchases, managing contracts and payments in the company required the attention of a team of employees. The department called personal insurance operations had 1600 employees and they had to manage these demanding repetitive tasks, which resulted in less than adequate efficiency. The tasks were completely manual and dull, which made Dai-ichi turn towards automation to increase efficiency as well as divert their resources from too much creative tasks.
Solution
Dai-ichi implemented RPA by Automation Anywhere in 2017. The company was looking to implement automation on a large scale. For this, the RPA had to deliver user-friendly solutions that would allow the users to create bots as required by them. Since the management of these bots fell on the user, rather than the software, the solution should also not require the knowledge of professional programming. The solution of Dai-ichi Life Insurance was the server-type RPA that took into account all the requirements of the company and delivered exactly what their operations needed for better efficiency.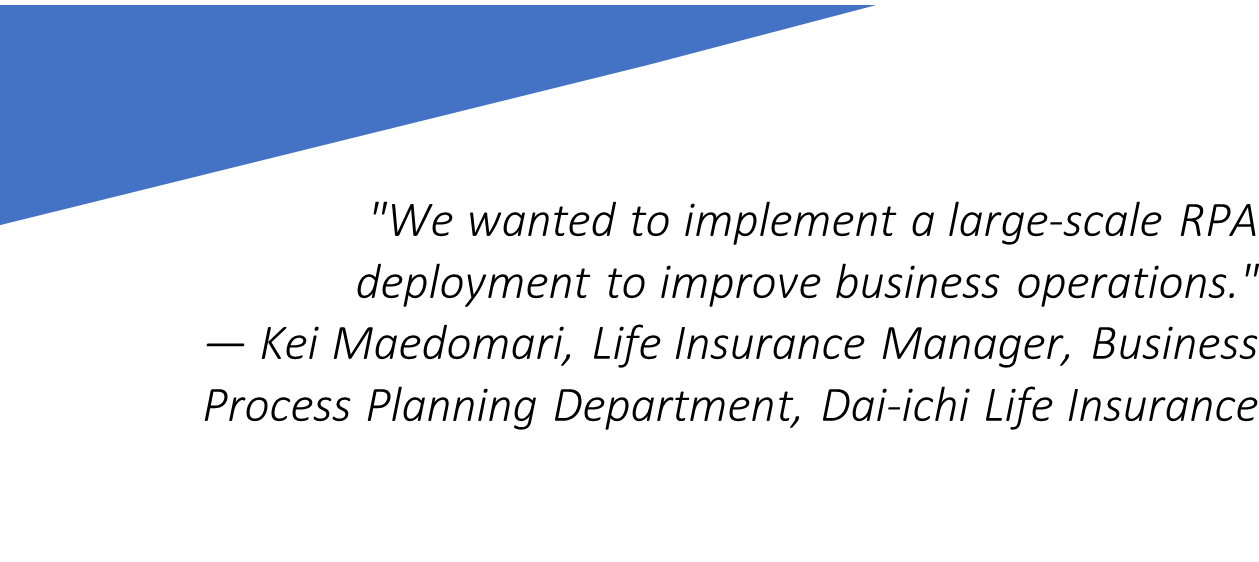 Results
By 2018 460 tasks in Dai-ichi spanning 36 departments were fully automated with RPA. This was during a stage where the company was trying to understand RPA and the benefits that come with it. The goal was to get an idea of the value created by automating repetitive processes before automation was fully integrated with the intention of economic returns.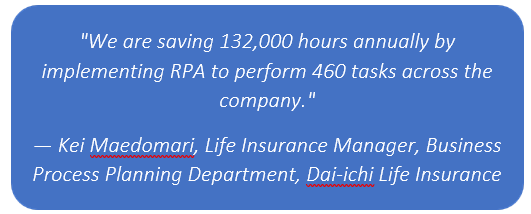 Of the automated tasks, the most important one that saved thousands of man hours is the automation of reporting. The main task here was to process sales data. The recorded sales data has to be exported to excel, and then made into a report for submission. The task required the employees to report to the office before they opened for operations to submit the report on sales. Now that the task has been automated with RPA, employees can begin their data with their complete focus on operations and the data entry happens with zero errors and maximum efficiency. RPA saved the company 132000 hours.

Future of Automation at Dai-ichi
The step focus of Dai-ichi in terms of automation is implementing Artificial Intelligence integrated Optical Character Recognition (OCR). This reads the text that was handwritten, therefore eliminating hours of data entry. The company aims to automate around 3000 more tasks and to save 450,000 hours by investing more in automation.
Source: Automation Anywhere