TuringBots and everything you should know about them
What are TuringBots?
TuringBots is a cutting-edge Artificial Intelligence (AI) technology that is quickly gaining attention in the world of robotics and automation. Forrester coined the term 'TuringBots.' The tech company also featured them in their list of top 10 technology trends in 2022. They are robots designed to operate autonomously and interact with their environment using AI algorithms. They find applications in many industries, including industrial automation, home automation, and healthcare.
TuringBots are designed to be self-learning, meaning they can learn from their environment and adapt to it. This means they can respond to changes in their environment, making them highly reliable and efficient. The robots can be trained to complete various tasks, such as navigating a warehouse or delivering supplies. They can also recognize objects and people, respond to voice commands, and even make decisions autonomously.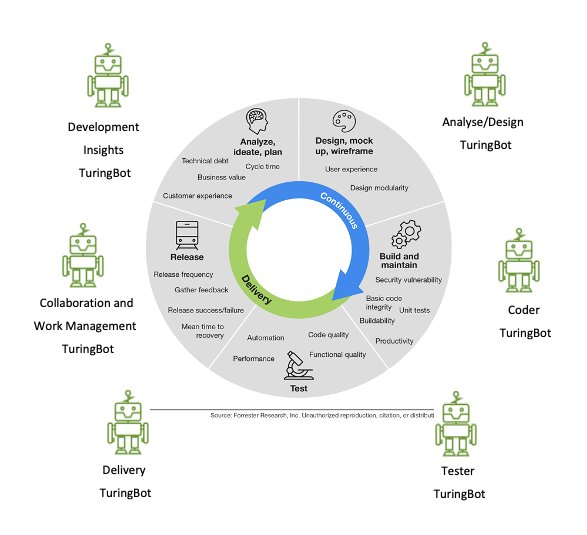 Source – Forrester, 2022
The development of TuringBots is made possible by AI technology, such as Deep Learning, Computer Vision, and Natural Language Processing.
Deep Learning enables the robots to learn from large datasets of images or text.
Computer Vision allows them to detect and recognize objects.
Natural Language Processing allows them to understand and respond to commands in a natural language, such as English.
Applications of TuringBots
TuringBots are designed to be both secure and reliable, as they can be programmed to follow safety protocols and regulations. They can interact with other connected devices when integrated with other systems, such as the Internet of Things (IoT).
Their applications are not limited to one industry –
Healthcare Industry 
The bots can assist doctors and nurses in diagnosing and treating patients. For example, a TuringBot could analyze a patient's medical records and suggest possible treatments or medications. In addition, TuringBots can monitor vital signs and detect signs of illness in patients. This could help detect medical issues more quickly and provide more accurate diagnoses.
Automotive Industry 
The bots are equipped to help with the development of autonomous vehicles. The learning capabilities of TuringBots can assist the automobile industry in developing self-driving cars. These cars can respond to their environment and make decisions based on the data they receive. The learning-based development of self-driving cars can make driving and roads safer.
Retail Industry 
The bots can successfully interact with customers and provide them with personalized recommendations. For example, a TuringBot can ask customers about their preferences and provide them with a list of items that might suit their needs. Enhanced customer satisfaction from better service by the bots can drive sales.
Educational Sector 
The bots can help students learn more effectively by providing personalized instruction. For example, a TuringBot could provide feedback on student performance and suggest additional resources to help them improve. This could help to improve the quality of education and increase student engagement.
What to expect from TuringBots?
The future of TuringBots is bright as their applications increase in more industries. With their ability to learn from their environment and interact with other systems, TuringBots are set to revolutionize how we do business. They have the potential to significantly reduce costs, increase efficiency, and improve the quality of products and services. As AI technology improves, TuringBots will become even more powerful and capable. They will soon become a valuable asset for businesses in the years to come.