Mutual clients of UiPath and Snowflake can now enjoy faster data integration, owing to their new partnership. There is no need for economically draining resources since the bi-directional integration allows customers to increase the efficiency of processes that leverage data for automation. UiPath bots will have easy access to Snowflake's reliable data and its data cloud, alleviating the need for complex codes.
What is Data Integration?
Data integration is storing data from multiple sources in a single location. The main goal of data integration is the convenient retrieval of data as and when required. It is familiar knowledge that an organization's data is distributed across all of its modes and sources of operations. So, it is not an easy task for an organization to accumulate that data to facilitate analytics and extract insights.
The data is spread across multiple platforms and stored in unstructured or semi-structured formats. Organizations cannot obviously employ a one-size-fits-all approach for data that does not come in one structure. Data integration helps businesses to leverage that data by consolidating it.
How can Data Integration help Businesses?
A company's general data includes data from web traffic, social media, client-facing systems, and many that hold important insights. Tapping into this data to drive business analytics allows businesses to implement solutions that strengthen already efficient business processes.
Domino's Pizza, as a part of its digital transformation journey, integrated data from 85,000 sources. They allowed customers to order a pizza from whichever smart device was convenient for them. This led to customer data being spread across multiple channels. Data integration allowed them to collect, clean, store, and keep the data open to teams. This simple storage and comfortable access to business data make big data analytics even more straightforward.
What does this Partnership mean for Customers?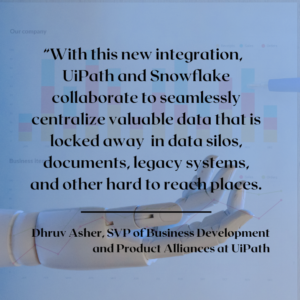 UiPath claims that the integration enables the customer to have a 360-degree view of data. It is mainly directed toward –
Automating Data Pipelines
Data integration will allow the inputting and collection of data from the Snowflake Data Cloud. UiPath can exploit this capability to automate data pipelines. Given how much data flows through them, the automation of data pipelines also means optimizing processes that utilize the data. This drastically improves a business's ability to make executive decisions based on data extracted from analytics.
Workflows will witness better streamlining with better guidance from existing use cases across various business processes and departments. Snowflake has an option that allows users a faster query option through 'native search.' Users, developers, or analysts can use this option to make quicker and more informed decisions to improve existing workflows.
This integration with Snowflake enables UiPath users to combine API as well as UPI automation. Not only can the users promptly get the data they require, but they can also access reliable and trustworthy data.