ISG Provider Lens™ issue a quadrant report on Low-code/No-code software vendor landscape
Platforms for low-code/no-code development let users configure programs using drag-and-drop tools with little to no coding. Low-code/no-code development was initially marketed to companies that couldn't afford the high costs of hiring tech talent. Low-code/no-code allows them to integrate a new application seamlessly with their existing legacy applications without making any changes.
In the following five years, the low-code/no-code development market will double, valued at around $15 billion. An exponential increase in app demand supports this growth. There are added advantages to low/no-code implementation that further solidifies its relevance –
Some of the testing stages necessary in the case of standard code are not necessary with low-code testing.
With Java or ReactJS, the development time for apps is between 5 and 10%.
The manual coding necessary for full-stack development is decreased to 5-8%.
The average development cost is 70% lower than traditional application development.
Positioning vendors in the quadrant by ISG
ISG recognizes three quadrants that the vendors in the landscape occupy. The first is those who offer low code development. Unlike full-stack product, low-code providers provide development platforms that need far less coding. The second is those who show no code development. They offer development platforms with drag-and-drop features and built-in business logic that may be used to configure apps.
The third category is the subject of this report. Low-code and no-code solutions are included in the comprehensive solution package provided by the third group of providers. A low-code/no-code development platform uses a graphical user interface to set up, deliver, and deploy programs.
ISG allotted the vendors different positions depending on their performance in various criteria. Software manufacturers' suitability for a specific market segment (Low-code/No-code development platforms) is reflected in the provider position. The role always applies to all firm sizes, classifications, and sectors without further qualifications.
The eligible vendors belong to one of five categories that indicate their position – Leaders, Product Challengers, Contenders, Market Challengers, and Rising Stars.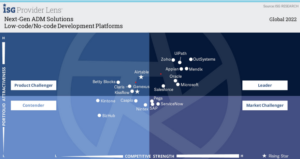 Leaders
ISG identified Appian, Mendix, Microsoft¸ Oracle, OutSystems, Salesforce, UiPath, and Zoho as leaders.
Leaders have a wide range of goods and services, a significant market presence, and a solid competitive position. Leaders are well-positioned to gain market share in the market the research focuses on. They have very well-crafted product portfolios and competitive tactics. The Leaders stand for both competitive stability and power in innovation.
Product Challengers
ISG identified Betty Blocks, Claris, and Kissflow as the Product Challengers.
Product Challengers provide a range of goods and services that showcase first-rate support and technological stacks. These businesses and services offer a unique breadth and depth of skills. They provide proof of their investment in growing their presence in the market and competitive advantages.
Contenders
ISG identified BizHub, Caspio, Kintone, and Nintex as Contenders.
Contenders provide goods and services that satisfy the standards for assessment necessary for inclusion in the IPL quadrant. These encouraging service providers or vendors exhibit signs of making quick investments in goods and services.  To become a Product or Market Challenger in a year, they should have a fundamental market approach.
Market Challengers
ISG identified Pega, SAP, and ServiceNow as Market Challengers.
Market Challengers are well-established in the industry and give a considerable competitive advantage over other suppliers and vendors. The prominent vendors in the areas or vertical markets examined by the study are frequently Market Challengers.
Rising Stars
ISG identified Airtable and Genexus as Rising Stars.
Rising Stars have attractive portfolios or the necessary industry experience. They have the essential roadmap and appropriate emphasis on significant market trends and client requirements to become Leaders. Rising Stars are also very good at managing and comprehending the domestic market in the area under study. These suppliers and service providers present proof of significant advancements made in the previous 12 months toward their objectives. If Rising Stars continue to generate above-average market impact and innovation strength, ISG anticipates that they will move into the Leader quadrant during the following 12 to 24 months.