In 2022 alone, cloud customers of Automation Anywhere have executed around 50 million automation. Across the global cloud automation company, many leading businesses deployed bots amounting to thousands.
Automation Anywhere recently published the results of their research. The survey found that 77% of companies have achieved prioritized automation and plan to invest more. Cloud technology is highly valuable in the current circumstance, where adapting is essential to add value of any kind. 93% of participants also agreed that cloud-based automation is crucial to any company that has already taken a cloud-first approach toward automation.
The investment into RPA and automation is increasing, and Gartner expects the market and sales will also increase. Therefore, automation service providers must be ready to meet the demand. Companies already considered the market, and automation pioneers will need to continuously upgrade to ensure quality service. They must be prepared for both customers looking to scale automation and new entrants looking to implement it for the first time.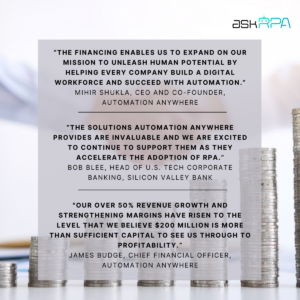 So, Automation Anywhere took the next step toward progress by funding ideas with Silicon Valley Bank and Hercules Capital to expand their vision. The funding will allow clients and companies to utilize human potential through access to automation fully.