About R1 RCM –
R1 RCM works with healthcare providers to offer them reliable technological solutions to efficiently manage their revenue cycle. Their services directly affect the patient experience as well as the economic situation of healthcare providers. R1 RCM helped their clients to adapt operating models that efficiently utilize their infrastructure while reducing costs.
Challenge/Problem Statement –
R1's operations are transactional in nature and depend on exhaustive manual work. The company uses its own standardized platform to run its processes. Even though the platform was developed to execute tasks and run operations that are unique to R1, there is a catch.
The company needs to run its functions by positioning its employees to use its client's internal core systems that the client already uses for their own operations. Running simultaneous standardized operations of two different organizations comes with its own challenges. Apart from this, the employees of R1 are under the constant stress of performing demanding and repetitive tasks. The main issue facing R1 is their need to employ their clients' IT resources to integrate their own platform and depend on their systems to conduct transactions.
Solution –
R1 recognized the need to automate its processes and integrated Robotic Process Automation (RPA) into its operations. They chose Automation Anywhere as their RPA partner and effectively manage the numerous transactions that happen daily. Automating many processes has ensured that the company's day-to-day operations go smoothly. R1 is now under a Centre of Excellence method where a significant scale of the company's processes is automated.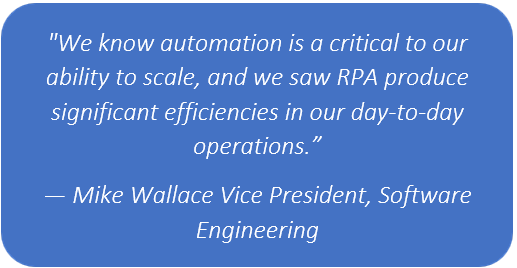 Incorporating RPA eliminated the need for the company's employees constantly use the clients' IT resources. The reduction in manual intervention increased the speed of processes and the productive time of employees. R1 has the operational proficiency of an expert. The combination of that expertise and automation through RPA resulted in the company benefitting more than it hoped for.
Results –
R1 initiated its mission to automate its processes with its most important business process – processing claims. This here is a classic example of how automation can actually enhance the work put in by a company's staff. The work involved in claim processing is highly manual. Right before a claim is submitted to an insurance company, a few edits are made to the claim to increase the probability of payment. The revisions are based on errors, and only after resolving those can the process go further. These edits, otherwise called variations, require a lot of information. This information is stored across multiple systems and warrants sifting through all those to get everything. When done manually, the process of 'editing' is daunting and redundant. Automating these redundant tasks is performed faster, with more accuracy, and without the need for human involvement.
Once the claim is submitted for payment, there should be frequent inspections to confirm that there is no delay in payment. The review is also to check if there is any need for intervention to ensure payment. The industry standards that already exist to perform such checks rarely collect all the required information to see the process through till payment is done. Therefore, through RPA, the inspections are done automatically, and the information is extracted and input into R1's systems. The system notifies the staff only if there is a need for intervention, making the work they do much more productive than before automation.
Figure 1 – Benefits of Integrating RPA – R1 RCM

Future Prospects –
The transformation into mostly automated processes has saved countless valuable hours for the company. The shareholders are impressed since R1 RCM is looking to expand its automation further and develop and create a more complex and agile RPA pipeline.
Source:  Automation Anywhere