About Santander –
                                    Santander consumer bank – Nordics is one of the largest niche banks delivering financial services like loans and credits, deposits, insurance, and credit cards to private customers in the Nordic region. The organization is 1400 employees strong in Sweden, Denmark, Norway, and Finland, and being part of Santander Global gives Santander Consumer Bank – Nordics a global forte.
Challenge/Problem Statement –
Santander was mainly managing four different operations in every country they were active in. This meant that even though there were a few similarities between various regions, each requirement was not the same. So, to implement processes, the bank had to develop unique ways for each operation, making their employees work overtime and handle a heavy workload.
The increased work burdened the employees and resulted in the company missing deadlines and failing to provide timely customer service. The company had to find a way to free their employees to perform more productive work and increase efficiency. Integrating RPA into their front and back-end operations proved to be an efficient solution to achieve both goals.
Solution –
Santander's trial model was successful in four countries, so the bank went ahead and appointed one team in charge. The team was in charge of managing, governance, and structuring their RPA implementation. The single team ensured that other teams were free of their extra burden. Not only that, but since implementing RPA is more straightforward, the differences in regions did not need as many changes as earlier. For example, the difference in languages is now not a problem, and the bots only need a central system to work.

The implementation of RPA led the company to achieve both of its goals. Front and back offices started delivering better and faster results. Employees who then had more time can now process customer service requests much faster without having to work overtime.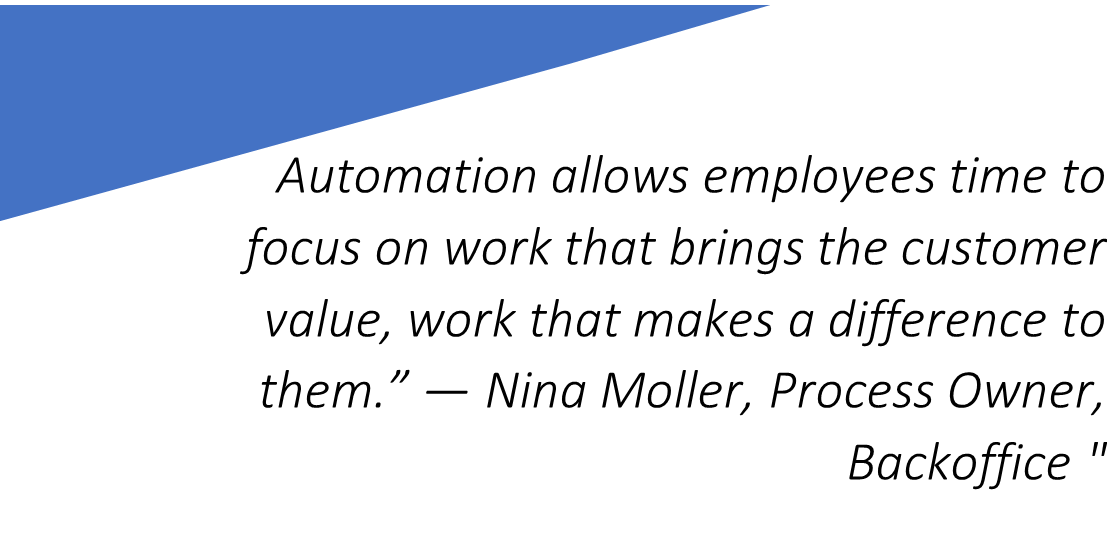 Details and Results of Automated Processes –
The best and the most critical outcome of automation in Santander was the drastic improvement in customer service.
Automation sped up the process that is responsible for reflecting the accurate bank balance. Since car loan processing was a manual task, there was a certain holdup before customers could view the correct balance. But automation removed the bottleneck so that the process is instantaneous.
In addition to this, there is a feature for customers who are looking to sell their cars. They can compare the prices of up to three cars of the same make and model. This eliminates the tedious process of having to look through multiple sources to find the right price.
Customers who require services for their accounts do not have to wait in line. Processes like account closure can be processed without almost no wait time.
Requests related to delays in loan payments require zero human intervention. A newly updated bill with the details of their new payments up until the completion of the term will be automatically sent to the customer.
The process of systems migration saw a tremendous increase in efficiency. The method of converting data from one system to another is called systems migration. The two-year project was supposed to cost $2M. When implemented through RPA, and with the bots running continuously throughout the day, the process took only 12 weeks to complete. There was no additional cost, and there was zero error.
Figure 1 – The Quantified Improvement Achieved Through RPA
What the Future Looks Like –
Santander Consumer Bank has successfully automated its front and back-end processes. They are looking to go only onward and upwards from here by automating more of their operations and introducing RPA and automation to more departments. The next in line are human resources and compliance. By testing and launching new automation, it is safe to say that automation is the new future for Santander.
Source: Automation Anywhere