Hyperscience's Second Annual Automation Pulse Report
A new study by Hyperscience details insights into the evolving attitudes and knowledge around automation and how it's employed. The study focuses on how the American workforce views it.
Report on the knowledge gap in automation
Automation closes the gap between human potential and the ever-expanding list of duties and obligations that exist today.
The survey noticed a 100-percentage increase in replies that claim automation is killing jobs. This is attributed to layoffs, skill shortages, and complicated workplace relationships on the rise this year. Business leaders must raise employee awareness of automation and its ability to provide new possibilities. Only this can help them advance their firms in this new era.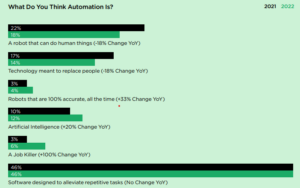 Source 1 – Annual Automation Pulse Report 2022 by Hyperscience
The workforce of the future is aware of the value of automation, which is encouraging for the future. Data showed that students had the greatest number of responses among all segments, selecting "software designed to alleviate repetitive tasks."
Is Automation Aiding Businesses in Providing Better Customer Service?
Consumer acceptance of automation in the public sector has increased by 2% and in healthcare by 1%. This comes after adjustments to income tax schedules, delays in passport issuance, and an innovation surge in healthcare. Consumer perception of the benefit of automation in financial services and banking (66%) and insurance (47%) did not alter from year to year.

Source 2 – Annual Automation Pulse Report 2022 by Hyperscience
The more businesses can promote automation's effect and benefits across industries through education, the better.
What do customers believe?
According to the 2022 research, customers now anticipate more despite the challenges of a competitive labor market and rising demands for improved employee experiences. Customers want their issues addressed and their views to be heard. Customers are considerably more inclined to support change if technology can benefit them.
75% of customers think that businesses should spend money on technology that enhances the customer experience in difficult economic times.
What matters most to customers when interacting with a company or service? Accurate results are given the most significant priority by 57% of respondents. Fast speed to favor (24%) and seamless customer service (19%) come next. Customers want businesses to respond swiftly and accurately.
Automation in the workplace
Businesses are still using automation as a growth strategy. As adoption rates rise, so does people's willingness to use technology.
65% of respondents think it's a good idea to adopt automation in the workplace.
82% believe that if automation technology eliminates administrative duties, employees would have more time to concentrate on essential tasks in their daily jobs.
86% show a keen interest in automation technology that eliminates manual work so that one can concentrate on tasks with higher value.