Azure OpenAI Service's general availability broadens access to significant, advanced Artificial Intelligence models with increased business advantages
Large language models are quickly developing into a critical platform for people to build, use AI to address significant challenges, and envision what is possible. As part of Microsoft's continuous commitment to democratizing AI and ongoing relationship with OpenAI, the company announced the broad availability of Azure OpenAI Service today.
With Azure OpenAI Service now broadly accessible, more companies may apply for access to the most cutting-edge AI models in the world, including GPT-3.5, Codex, and DALL•E 2, supported by the dependable enterprise-grade abilities and AI-optimized infrastructure of Microsoft Azure. Customers will soon have access to ChatGPT through Azure OpenAI Service, a refined version of GPT-3.5, which has been trained and performs inference on Azure AI infrastructure.
Microsoft is committed to continuously empowering its customers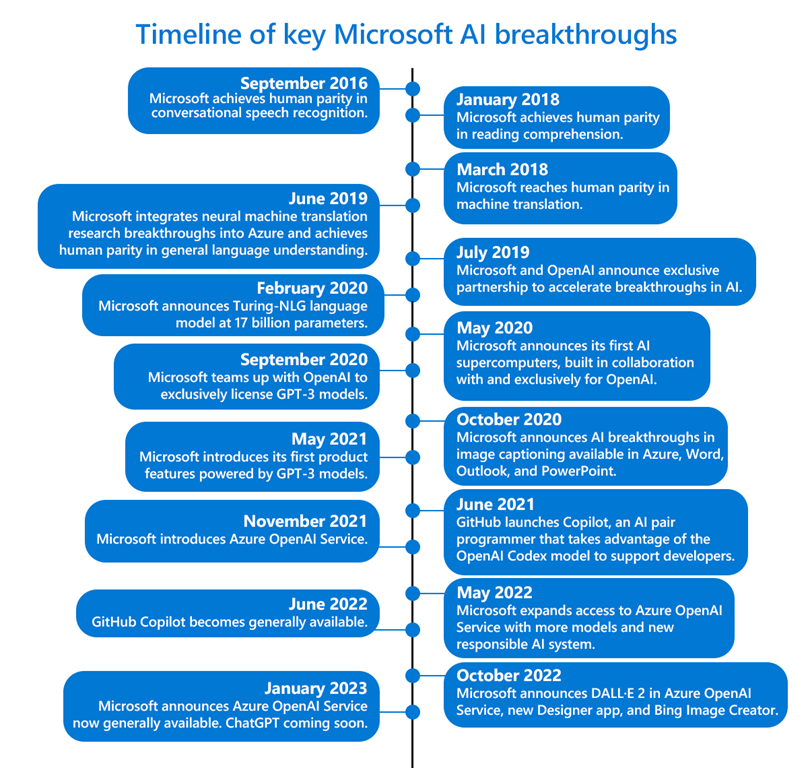 To give customers access to the power of massively scalable generative AI models with the enterprise promises that customers have come to expect from Microsoft's Azure cloud and computing infrastructure—security, reliability, compliance, data privacy, and built-in Responsible AI capabilities— Microsoft introduced Azure OpenAI Service in November 2021.
Since then, clients have utilized Azure OpenAI Care for various purposes, such as creating content to assist consumers in making the appropriate purchases or summarising customer service problems, freeing up staff members' time to work on other vital projects.
What clients had to say about Azure OpenAI Service
"At Moveworks, we see Azure OpenAI Service as an important component of our machine learning architecture. It enables us to solve several novel use cases, such as identifying gaps in our customer's internal knowledge bases and automatically drafting new knowledge articles based on those gaps. This saves IT and HR teams a significant amount of time and improves employee self-service. Azure OpenAI Service will also radically enhance our existing enterprise search capabilities and supercharge our analytics and data visualization offerings. Given that so much of the modern enterprise relies on language to get work done, the possibilities are endless—and we look forward to continued collaboration and partnership with Azure OpenAI Service."—Vaibhav Nivargi, Chief Technology Officer and Founder at Moveworks.
"Al Jazeera Digital is constantly exploring new ways to use technology to support journalism and better serve our audience. Azure OpenAI Service has the potential to enhance our content production in several ways, including summarization and translation, selection of topics, AI tagging, content extraction, and style guide rule application. We are excited to see this service go to general availability so it can help us further contextualize our reporting by conveying the opinion and the other opinion."—Jason McCartney, Vice President of Engineering at Al Jazeera.
"KPMG uses Azure OpenAI Service to help companies realize significant efficiencies in their Tax ESG (Environmental, Social, and Governance) initiatives. Companies are moving to make their total tax contributions publicly available. With much of these tax payments buried in IT systems outside of finance, massive data volumes, and incomplete data attributes, Azure OpenAI Service finds the data relationships to predict tax payments and tax type—making it much easier to validate the accuracy and categorize payments by country and tax type."—Brett Weaver, Partner, Tax ESG Leader at KPMG.
Why does Azure OpenAI Service stand out?
Azure provides the primary processing capacity for the family of models used by the OpenAI API to improve research and support developer output.
The company is the only worldwide public cloud that provides AI supercomputers with enormous scale-up and scale-out capabilities. Azure offers best-in-class speed and capacity for the most computationally intensive AI training and inference workloads thanks to a distinctive architectural design that blends cutting-edge GPU and networking technologies. Because of this, top AI businesses like OpenAI, Meta, Hugging Face, and others are choosing Azure to accelerate AI innovation. Azure is now the highest-ranked global cloud service provider and is in the top 15 of the TOP500 supercomputers in the world.