Gartner recently published its Magic Quadrant for Integration Platform as a Service, Worldwide, 2023 with 16 vendors
Gartner defines an integration platform as a service (iPaaS), a vendor-managed cloud service that allows end users to construct integrations across various applications, services, and data sources.
The Integration Platform as a Service (iPaaS) Market 
According to Gartner, the iPaaS industry brought approximately $190 million in sales in 2012. With a predicted compound annual growth rate of more than 36%, iPaaS revenue is expected to surpass $6.6 billion by 2023, more than a decade from now. After expanding by 40.2% y-o-y in 2021, iPaaS became the market category for integration software technologies growing quickly.
Over the past ten years, the iPaaS market's vendor ecosystem has transformed significantly. iPaaS suppliers are currently tracked by Gartner in more significant numbers than 150, up from only 30 in 2012. These companies provide advanced services for a wide variety of integration use cases. Their enterprises have expanded enormously in size. A prominent iPaaS provider will probably handle billions of integrations monthly for its clients, while some individual iPaaS clients conduct more than a billion monthly integrations.
For many integration use cases, the integration platform as a service (iPaaS) allows a quicker time to value and lessens operational issues. Gartner's study evaluates 16 providers to assist software engineering executives in choosing iPaaS solutions that complement their tactical requirements and strategic objectives.
Gartner recognizes four classifications of vendors in its Magic Quadrant for the category Integration Platform as a Service –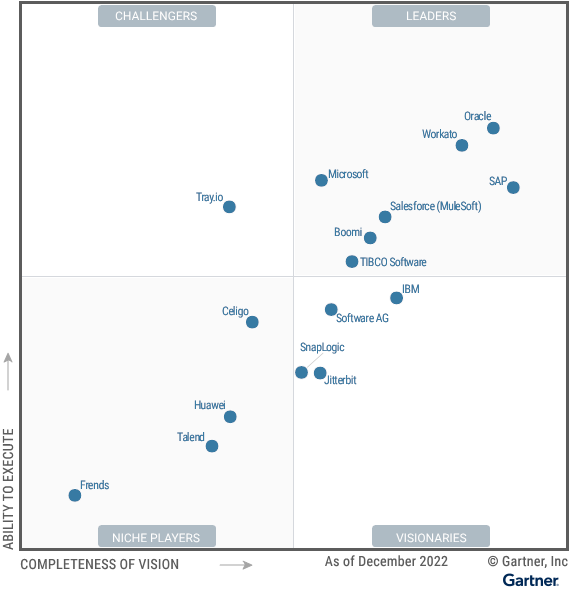 Source – Gartner, 2023
Leaders
Leaders are proficient in the iPaaS market. They have a track record of effective execution and the capacity to sway market sentiment. Leaders have a well-defined product strategy to strengthen the product's position and assist customers in protecting their investments.
Leaders consistently improve their capacity to provide clients with platforms with a wealth of features and great value. They serve a variety of integration use cases and deal with new business issues. They collaborate with a wide range of partners that offer consumers specialized local assistance and services in most geographical areas.
Leaders are in a good position to maintain their dominance while the iPaaS industry changes. However, we cannot assume that their presence will be permanent. Vendors who lose focus might leave the Leaders quadrant in the quickly evolving iPaaS industry.
Leaders of Gartner's Magic Quadrant for Integration Platform as a Service, 2023
Boomi
Microsoft
Oracle
Salesforce (MuleSoft)
SAP
TIBCO
Workato
Challengers
Challengers provide platforms that are competitive and give value in many integration scenarios. Challengers have the financial capability and dedication necessary to contend in the iPaaS industry.
Challengers are in a solid position to win this market. However, because it relies on the requirements of its current iPaaS customer base, its view on how the industry will develop is frequently constrained. They often have an insufficient understanding of the use cases, consumers' expectations, or who the purchasers are (or will be). Their offerings are thus more specialized than that of Leaders.
Challengers' platform roadmaps may be less thorough than Leaders' or lack a unified approach for the many products in their portfolio. In contrast, they could fall short of Leaders in areas like marketing, sales channels, geographic reach, industry-specific content, and innovation. Challengers must advance in their areas of concern and match the platform capabilities and roadmap of Leaders to become Leaders.
Challenger of Gartner's Magic Quadrant for Integration Platform as a Service, 2023
Tray.io
Visionaries
Visionaries grasp new technological and commercial trends by matching their iPaaS skills with current demand. They are continually reinventing their technology, delivery methods, and go-to-market strategies because they are aware of the particular needs of this industry.
According to visionaries, the iPaaS service is a crucial component of a larger integration plan. They may use iPaaS as one of several integration routes to mix software licenses, software subscriptions, and as-a-service subscriptions.
Those with a vision may have experience with conventional on-premises integration middleware. As a result, they are well-versed in the difficulties associated with corporate integration. Outside their present clientele or industry, they could lack exposure or reputation. They can also lack the marketing and sales know-how needed to promote their services and attract customers outside the IT industry.
By purchasing another vendor, drastically reengineering existing on-premises products for cloud delivery, or creating new technology, visionaries can potentially get into the iPaaS industry. Visionaries must enhance their sales strategy and execution to increase their market share to become Leaders. They also need to increase the visibility of their platforms among new client groups.
Visionaries of Gartner's Magic Quadrant for Integration Platform as a Service, 2023
IBM
Jitterbit
SnapLogic
SoftwareAG
 Niche Players
Niche Players often target a particular sector of the iPaaS market and are experts in one industry, region, or functional area. Startups, tiny businesses that are beginning to prosper, or suppliers concentrating on specific use cases could be among them. However, within that market area, they frequently have exceptional technical solutions and levels of customer satisfaction.
Offerings from Niche Players may be appropriate for companies needing local presence and assistance, a close partnership with a provider, or a platform that caters to certain industry use cases and functional needs. Smaller suppliers may not face the same viability issues as niche players who can meet these precise needs.
Niche Players are often popular targets for acquisition because they offer specialized iPaaS solutions that focus on a relatively narrow function or market segment. Their products often complement the broader integration strategies and platforms of larger vendors.
Niche Players of Gartner's Magic Quadrant for Integration Platform as a Service, 2023
Celigo
Frends
Huawei
Talend