OpenBots is a fully featured RPA+ Intelligent Automation platform. The platform constructs and offers business automation for a fraction of the cost of any forum on the market. Their primary goal is to replace the legacy RPA systems' licensing fees with zero-bot licensing.
OpenBots now has PCI DSS, SOC2 Type 1, and HIPAA compliance certifications, among other security and regulatory accreditations. Ashish Nangla, co-founder and CEO of OpenBots, said "OpenBots' SOC 2 Type 1 certification is a crucial milestone in our compliance journey as it reaffirms our dedication to security for our clients."
Automation software is required to be highly versatile, safeguard, and secure data for various applications. The requirement for safe data transmission across systems in sectors like banking and healthcare goes hand in hand with the security enhancements of the OpenBots Platform.
The OpenBots team recently travelled to Seattle for the Banking Automation Summit to speak with top banking and financial sector executives about the value of data protection. Since RPA's growth in 2016, banks have accounted for most of its users. They frequently employ one of the top 3 central banking systems and have a lot of sequential operations – Fiserv, Jack Henry, or FIS.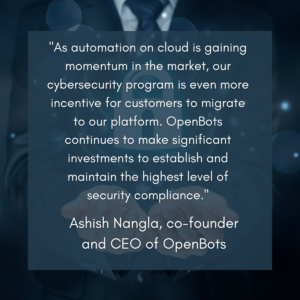 These systems' underlying sub-applications don't communicate with one another. Data may be smoothly and accurately transferred across different systems with the help of RPA, said Gabriel Skelton, director of automation solutions for banking, mortgages, and insurance at OpenBots. The SOC standards for service organizations are governed by the AICPA in several areas, including availability, security, confidentiality, processing integrity, and privacy.
The American Institute of Certified Public Accountants (AICPA) defines SOC for Service Organizations as "internal control reports on the services supplied by a service organization giving essential information that users need to analyze and resolve the risks associated with an outsourced service." OpenBots is an automated platform that mimics human behaviour to expand company operations. The platform enables users to construct workflows for business teams and clients while automating processes on top of any app or system.