Complexity has often been a barrier for individuals without technical expertise in image editing. However, a game-changing solution has emerged in the form of DragGAN. This innovative AI editing tool empowers users to make remarkable image alterations through intuitive point-and-drag controls. This article delves into the power of DragGAN, exploring how it simplifies image editing, unleashes unprecedented creativity, bridges the gap with generative AI, streamlines workflows across industries, and presents promising prospects.
The Power of DragGAN: Simplifying Image Editing
Introducing DragGAN: A Game-Changing Tool
DragGAN represents a significant leap forward in image editing, enabling users to achieve remarkable transformations quickly. Its intuitive interface and user-friendly design make it accessible to individuals at all skill levels.
The Unique Differentiator
Point-and-Drag Controls One of DragGAN's standout features is its point-and-drag controls. Users can drop a point on an image and manipulate its structure and pixels effortlessly. This approach sets DragGAN apart from other generative AI image tools by offering precise output control.
Realistic Alterations
Preserving Authenticity with Generative AI DragGAN's power lies in its ability to generate realistic alterations while maintaining authenticity. By leveraging the capabilities of generative AI, DragGAN can seamlessly fill gaps, hallucinate occluded content, and maintain object rigidity, resulting in visually compelling and natural-looking images.
Unleashing Creativity: Unprecedented Editing Possibilities
A New Paradigm
Changing Image Structure with a Single Point DragGAN introduces a paradigm shift by allowing users to alter image structures with a single point. From extending mountains to modifying facial features, the simplicity of DragGAN's controls empowers users to bring their creative visions to life.
Dynamic Transformations
From Closed to Open Mouths With DragGAN, users can achieve dynamic transformations effortlessly. For instance, a closed mouth can be morphed into an open smile by placing points strategically. The tool's generative AI capabilities fill in the necessary details, ensuring a seamless and realistic transition.
Altering Perspectives
Breaking Free from Conventional Constraints Unlike traditional editing tools that offer perspective adjustments as mere distortion correction, DragGAN allows users to change the angle from which a photo is taken. By generating pixels intelligently, it opens up new creative possibilities, eliminating the need for extensive manual work.
Masking Feature
Precision Editing Made Easy DragGAN simplifies precision editing with its masking feature. Users can easily highlight specific areas they wish to alter while leaving the rest of the image untouched. This feature streamlines the editing process, making it efficient and precise.
Beyond Traditional Editing Tools: Bridging the Gap with Generative AI
From Manipulation to Hallucination: Filling Gaps with Realistic Details
DragGAN bridges the gap between image manipulation and hallucination. It leverages generative AI to fill gaps in images with realistic details intelligently. Whether it's teeth inside a lion's mouth or the bending of a horse's leg, DragGAN preserves realism and eliminates the need for manual brushwork.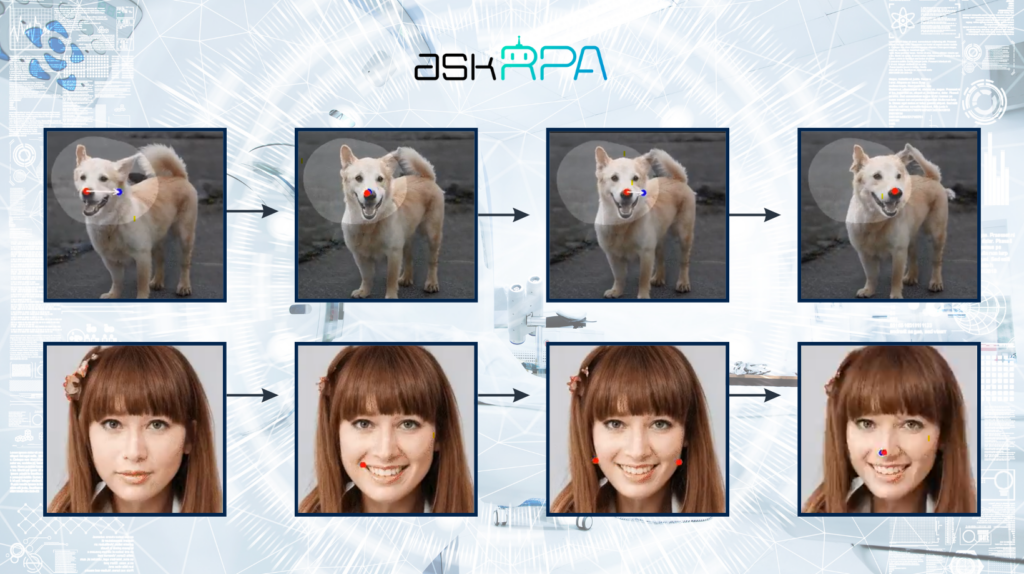 Deforming with Precision: Maintaining Object Rigidity
Maintaining object rigidity is crucial when deforming images and DragGAN excels in this regard. It accurately follows an object's rigidity while applying deformations, resulting in visually convincing edits that appear natural and coherent.
Overcoming Limitations: The Challenge of Randomized Image Generation
DragGAN addresses the limitations of randomized image generation tools by allowing users to achieve outputs closer to their desired image. When combined with image generation tools, it opens new avenues for executing precise and tailored results.
The Impact of DragGAN: Streamlining Workflows across Industries
Simplifying Image Editing for Non-Designers and SMEs
DragGAN's simplicity makes it accessible to non-designers and SMEs, empowering them to perform advanced image editing tasks without extensive training or technical expertise. This accessibility streamlines workflows and reduces dependency on professional designers.
Enabling Rapid Prototyping and Design Iterations
With DragGAN, rapid prototyping, and design iterations become seamless. Users can quickly visualize and experiment with different creative concepts, enabling faster development cycles and enhancing the overall design process.
Amplifying Creative Expression in Advertising and Marketing
DragGAN unlocks new possibilities for creative expression in advertising and marketing. Marketers can easily modify images to align with brand messaging or create captivating visuals that engage and resonate with their target audience.
Enhancing Visual Storytelling in Journalism and Media
In journalism and media, DragGAN empowers visual storytellers to enhance their narratives. From adjusting perspectives to highlighting specific elements, DragGAN's precise editing capabilities contribute to compelling and impactful visual storytelling.
Future Prospects: The Road Ahead for DragGAN
Public Availability: Awaiting the Launch of DragGAN
While DragGAN is currently a demo, its general availability is eagerly anticipated. Its launch will democratize image editing, enabling a broader user base to access its transformative capabilities.
Integration with Existing Image Generation Tools
Integrating DragGAN with existing image-generation tools has the potential to amplify creative possibilities further. By combining its precision with the generative capabilities of other devices, users can achieve even more tailored and refined results.
Advancements and Expansion of DragGAN's Capabilities
As DragGAN evolves, advancements and expansions of its capabilities are expected. The tool's developers may explore new editing features, refine its AI algorithms, and enhance user experience to cater to a wide range of creative needs.
Implications for Automation and AI-Driven Industries
DragGAN's success highlights the potential impact of automation and AI-driven technologies in various industries. Its ability to simplify complex tasks and enhance creative workflows underscores the significance of AI-driven automation in optimizing processes and driving innovation.